Arizona straight edge hardcore new on pre-order
This is the debut from Civilian Mind. Monument will carry the european color (marbled purple) and a few of the US color (marbled brown). So act fast.
For fans of: Have Heart, Strife, Verse, Go It Alone, Sinking Ships, hardcore
(click flyer to reach the pre-order)
Yo! Yo! Yo!
The Sidestep wax have landed and pre-orders are shipping fast. On blue. Catch Sidestep and Outstand on their tour in Europe.
Sidestep pre-order is open!

(click flyer to reach PO)
Pre-order to get first in line to get Göteborg hardcore 2022!
Monument 20 years of hardcore
Est 2002, with 62 record releases, tons of shows, a clothing line and

publications, collabs and whatnot...
...Monument are psyched to present the one and only "20 years of hardcore" anniversary.
The artist: Marc Strömberg, Håll Det Äkta, Forever Young and Marc UÅ.
Limited to the first press of 100x.
Slow Jams "Punk standards"
Pre-order open at Monument Records!
In 2022 Slow Jams are ready to unleash their second full-length album PUNK STANDARDS on which they are digging deeper into their punk rock roots and honoring early nineties grunge and post-hardcore sounds.
Pre-order here!
Pre-order here!
Pre-order here!
This is a collab with our friends:
PRE-ORDER I.CORRUPT (Germany)
PRE-ORDER WHITE RUSSIAN (Netherlands)
PRE-ORDER KINGS ROAD (UK)


Bleachdrinker "Icon" out now!
BLEACHDRINKER - awesome powerviolence from Stockholm, Sweden.
The debut EP "Icon" holds eight ripping songs that will for sure please fans of grindcore, powerviolence and fast as fuck hardcore!
Listen to Bleachdrinker Bandcamp
Play fast, die!

(click cover to reach 7")
To celebrate this crushing release Monument have a exclusive package deal with Bleachdrinker tee, limited in supply:
(click tee)
This release is with our friends in Flyktsoda Records. Great label in every aspect.
Straight Edge: all ages TMNT
designed by Marc Strömberg
From the sewers comes a message: Say no to drugs, say yes to pizza! Turtle power!!
New shirts from Monument Clothing.
A limited run.
Animal & Human Liberation
Straight Edge: X-watches, stickers and pins
New from our friends in Positive Sights. Limited supply:
X-watch black
X-watch white
X-watch pink
X-watch pink w/ flowers limited
Vegan: cruelty free
And here's whats new from Positive Sights
(Click logo)
Monumental series soon out of stock
Monument and Marc Stromberg

of

Håll Det Äkta

, the soda

Hjortrongranat

, collective

Random Bastards

etc. released Danny, Mac, Bill and Jeff as a one-off tribute. The shirts are running low and we'll never ever make these again.

Nine and other awesome stuff

added to your HQ.
It's your funeral LP is already out of stock. Killing angels is available for now. Click the pic or here.
We also got tons of new sweet vinyl like M:40, Misantropic, Myteri, Bombangrepp, Fredag Den 13:e and more
New to the family
Deletär self-titled LP

(click cover)
D-beat hardcore guaranteed from the local french hc kids. If you're into TOTALITÄR, SKITKIDS, HERÄTYS and the likes...
Listen to Fredagen Den 13:e - Domedagar
Link: http://www.monumenthq.se/shop/?pid=4776
Stuff you order will be reserved for you and you only. Monument are shipping great pieces. (great) Example of records now out of stock like forever and ever:
Skitsystem – Stigmata
Refused – Everlasting
Modern Life Is War – Witness
Judge – What it meant
Guidance – Path of grace
Give Up The Ghost – Background music
From Ashes Rise – Nightmares
Descendents - Milo goes to college
New stuff from Refuse Records
We're all waiting for their new records to land and in the meantime, hook these suckers up on a pre-order deal:

New hardcore merch from World Of Need
Great classic stuff with Shield, Career Suicide, Unbroken, Cursed and Monument cheerish the cooperation with the dudes behind the label!
(click t-shirt to get it)
Tons of new stuff from Ugly & Proud!
Check it here: Ugly & Proud
Example:
XReignX
XDevourX
Racetraitor
Wake Of Humanity
Youth Crew 2018
Sendero
and much more... Support this awesome label.
Give Today, lps are shipped
The pre-order is running thin and close to end forever. The records are pressed and 24 kilogram are sent right now by express to MonumentHQ. We'll prioritize and respect all you PO-folks and everything else must stand back because this hardcore juggernaut will go out in a blast.
Only time will tell the aftermath.
Join now:

Give Today LP pre-order*



Monument are happy to bring you:



Give Today "Everything that's left"

on vinyl

"Young blood from Sweden. The 90`s! Think about this: New Age Records going for a date with Desperate Fight Records. Nine months later we have Give Today. This young lads know what`s best in hardcore. FFO: old Abhinanda, Shield, Temperance, Outspoken..." (Mark My Words Records)

The Underground Fraction are proud to present our 10th release and Monument Records 58th! Give Today is the young blood from Gävle that brings back that 90's vibe on the map in the Swedish hardcore scene. They sounds just like the bands we grew up listening to back in the 90's so we are really happy to release "Everything That's Left" in November together with Monument Records and Svensk Hardcore Kultur. The album is already out digitally and the CD version is available from Mark My Words Records (UK).
For fans of: Abhinanda, Shield, One King Down & Strife!

Side A
1. Descent Of Trust
2. Torn Apart
3. Eternal
4. Falling
5. Reveries Of Spring
Side B
6. Left Behind
7. Forever Unwritten
8. Eight
9. A Dying Light
10. Only Time Will Tell The Aftermath

Black 12" vinyl
200 copies
* Release date: November 30, 2018. Pre-orders ship first!
This, this is the end: Straight & Alert Records
Monument have lost an awesome co-label located in France. Releasing great hardcore bands and helping the scene to thrive for years.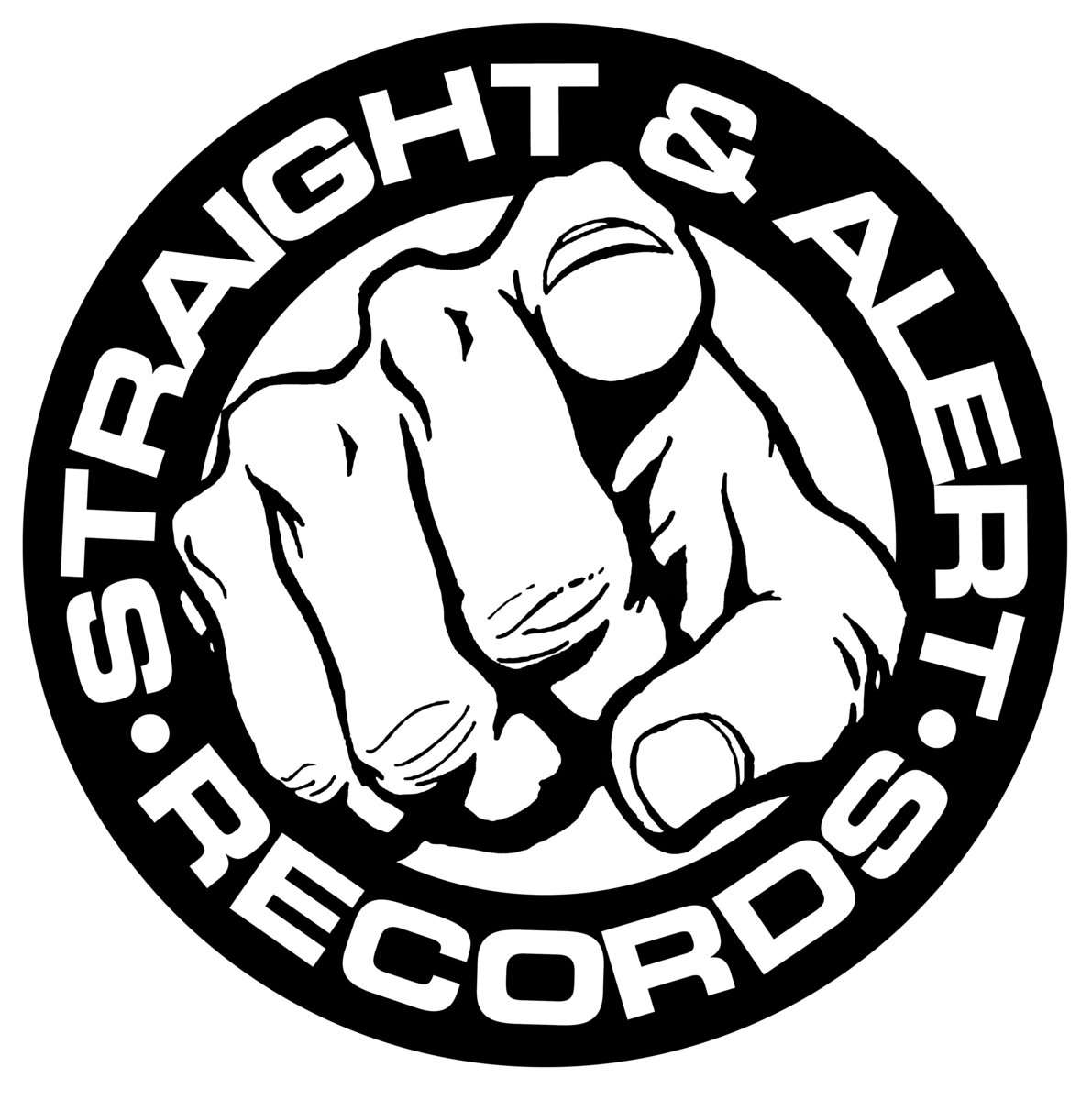 "Hey everyone. I've known for a while this moment would eventually come, I was just not sure when exactly, but here is the time : STRAIGHT & ALERT records is over.
At least that's where it's heading to. After almost 10 years selling records and 6 running the label I feel it's time for me to try something else.
Obviously the unexpected / inexplicably sales decrease from last month had an impact on my motivation and brought back some questions that were coming up from time to time. A bitter feeling of starting to go around in circles, not developping any new skills for this « job », and falling into a boring work routine I've been trying to avoid since the day I started S&A, slowly killed my desire to keep going. All this rang the alarm bell, and lead me to make this hard decision.
I want to thank a lot all of you for your continuous support over the years. Without you nothing would have been possible. It's with tears in my eyes I am writing these words but time has come for me to move on and try something new."
Releases that MonumentHQ carries: http://www.monumenthq.se/shop/?lid=3406
STRAIGHT & ALERT records : 2009 – 2018

Alexis / Straight & Alert"
The main figure, Alexis are hanging in thought; "On the positive side having more free time gave me the opportunity to start a new youth crew band, and another one (or two) hardcore projects I'm cooking, so it's for the best. I'm not done yet!"
Monuments shout-out is a final order, just landed at your HQ (click covers to reach the vinyl):
DS-13
To good to be true, brilliant.
In stock: Umeå Hardcore Forever, Forever Umeå Hardcore
DS-13
To good to be true, brilliant.
If you know your Demon System this compiles every breath of their trashy, fast, pissed of hardcore maxed with attitude and a dark sense of humor. Over the top in every great aspect.
Only 7 copies left.
Crowsnest
Monument are distributing Crowsnest new album and the pre-order are here. Check it.
Crowsnest is a band that made its marks in 2015 and Monument have had the opportunity to work with this crushing, ear-grinding combo.
The album "Rational youth" to be released the 7:th of october and tracks their progress from "Nothing is under control" 2015 and "Abandon all" 2014.
Rational youth is recorded @ Lionheart Recordings and the cover art by Jonas Holmberg (This Gift Is A Curse). Just back from a European tour with Being As An Ocean, the band are destined for upcoming shows.
"This is what we have been working on for about two years, and we couldn't be more excited to finally announce it. Our album "Rational Youth" is coming out on October 7th. You can pre-order the album together with some cool packages via Monument at the link below. Also, a new track from the record is coming next week. Thanks for sticking with us."
(Click cover to pre-order)
The pre-order comes with a package deal with a tee or sweater:
New material is soon to be released but this outdated vid is for all you bloodsuckers:
More tunes at:
Found in the vault at Monument
Some of you don't recognize the depth and variations in our distro, collected since 2002. It runs deep as Sportswear would say (RIP Peter)
A few out of many records of the gold standard:
Kollapse "Angst" out now!
All pre-orders are shipping from Monument as the distributor of this heavy, dark album influenced by Breach, Swedish hardcore legends.
Read more by the label: https://theundergroundfraction.wordpress.com/2017/05/19/kollapse-angst-lp-out-now/
and get it while it last:
ORDER NOW!
Reviews on Kollapse "Angst"
Trivia: What is the meaning and inspiration behind the name 'Kollapse'?
Thomas: We really like the Swedish band Breach and we felt it tied in well with what we were trying to do lyrically - both in terms of the lyrics themselves but also the spelling of "kollaps(e)" with the added "e" in the end
Pre-order is about to end and all records will be shipped. Here's what others would describe the album:
"Kollapse plays a musical style that takes post hardcore, crust and doom metal and mixes them together to create something original, the production sounds very professional while the lyrics cover anxiety, loss, suicide, freedom and death themes." 8/10
Review from: http://undergroundmusickzine.blogspot.dk
"I will admit that "Angst" is one of the best albums i've listened to in months. I'm definitely down with it thus i'd like to recommend it. "
9/10
Review from: https://tzertzelos1.wordpress.com/2017/04/05/kollapse-angst/
"... deadly sound, inexorable and cold like ice. Monumental riffs alternate with arpeggious phrases while a voice screams at their own sorrow. Really interesting. "
Review from (translated by ed): http://forthekidsxxx.blogspot.dk/2017/04/kollapse-angst-icore-produzioni-12.html
" If Kollapse is able to get rid of influences that today seem too easy to identify and acquire more personality, we may be faced with one of the most interesting acts of the European Underground. "
7/10
Review from (translated by ed): http://www.grindontheroad.com/2017/05/02/kollapse-angst/
"An album that could use a few more punctuated moments, but is still extremely potent."
8/10
Review from: http://metaltrenches.com/reviews/angst-917
"Angst is an impressive release that plays by its own rules"
Review from: https://wonderboxmetal.com/2017/05/06/kollapse-angst-review/
"KOLLAPSE outline a gloomy work that creates fears and sorrows and, in keeping with the motto" First of all, end before you start something new, "gives free rein to the madness that has already advanced so far that the compromise between psychoterror and suicide implies a sacrifice. "
Review from (translated by ed): https://www.underdog-fanzine.de/2017/05/07/kollapse-angst
Last of the gang, part 2
All 7" vinyl.
Last copy
Nothing last forever and these are the last to go. First come, first saved
New video from Kollapse
https://www.youtube.com/watch?v=HvKhULtN-LY
And things are moving fast, catch the dark and powerfull record!
News from our friends in The Underground Fraction!
KOLLAPSE "Angst" LP PRE-ORDER
THE UNDERGROUND FRACTION are proud to announce our first release for 2017. We will join 15(!) other labels and unleash one hell of an album by Denmarks finest: KOLLAPSE! The album "ANGST" is due for release on May 19th and will knock everyone down. This is desperate music for desperate times.
Track list:
01 VOID
02 DEATH OF A MONOTHEIST
03 GUEULES CASSÉES
04 TIL HØLLE
05 BLINDING LIGHT
06 NESTING
07 ABANDON
For fans of: BREACH!
TUF009: Kollapse – Angst LP
Kollapse: a four piece from Aalborg, Denmark playing desperate music for desperate times.
Kollapse started jamming around 2012 with the intention of uniting the members' love of metal, punk, hardcore, doom, noise, and postrock. After a DIY 10" the band unified their expression and released a split 7" with Copenhagen-based crusty hardcore band No Fealty. The song "Father", on that release, set the benchmark for their later material. It became known for its heavy grooves and passages, drone breakdowns and dark and melancholy vocals.
Today Kollapse is an eclectic mix of melodic doom riffs, epic crust, dark emo, and simplistic song structures and narratives. The band itself does not care about genres, but they aim to create a pure, authentic, and emotional expression filled with lyrics about the darkness in man. The lyrics are worn with their hearts on their sleeves putting everything up for display.
Kollapse recorded their debut LP together with producer Jacob Bredahl in the spring of 2016. The album with the title "Angst" will be released May 5th, 2017. With a producer in line, that understood the band and their direction, the sound on the album manifested the darker, heavier, and more focused sound, that vary between drawling slow and angrily fast. The lyrics on the new album continues the focus the band had prior with darkness of man, and deals with anxiety, loss, freedom, suicide, death, and upbringing as underlying themes.
Press from The Underground Fraction:
TUF009: Kollapse – Angst LP
500 Black 12″ vinyl
200 Baby blue 12″ vinyl
Release date: 2017 May 19th
PRE-ORDER NOW!
PRE-ORDER NOW!
PRE-ORDER NOW!
Håll Det Äkta are down but not dead (yet)
Monument are sad to bring you the news that the Umeå HC combo are calling their quits. The upcoming album will be their goodtime and testament of a solid hardcore band being around since 2009. Remembered for their artistic and independent DIY-attitude, turning new stones in the formula.
Don't sleep on the pre-order and add if you miss any of their albums. Since they're gone, they will be gone forever. Thank you Håll Det Äkta, Monument are happy and proud to be around the collective since day 1 more or less.
Håll Det Äkta "Soul cracks the gold" test-press approved
And the production have started. Are you ready? The pre-order is closing in and many have reserved ones to get delivered. Don't wait, just do it
PRE-ORDER NOW!
PRE-ORDER NOW!
PRE-ORDER NOW!
For the last time...
Håll Det Äkta "Soul cracks the gold" PRE-ORDER open!
The last chapter of Håll Det Äkta are being written and Monument is the publisher. A proud one to have joined the ranks of the Umeå Hardcore collective. To celebrate and end on a high note we pitch it on blood splatter, gatefold with artwork from Marc Strömberg (the singer) and a poster included in the package.
Press from The Underground Fraction:

The relationship between The Underground Fraction and Håll Det Äkta is really special. Before we even had a name for this label we were talking about how cool it would be to release Håll Det Äkta. Said and done, we started the label, launched the website and then we contacted the band. A couple of months later we released the 090 LP as our very first release. It really was the best start this label could ask for. As release number two on the label we put out their Sabotage LP. Shit has been moving fast since then. Unfortunately Håll Det Äkta have decided to call it quits. We will make the circle complete with the full length Soul Cracks the Gold which was due to be released last summer. Soon everyone will finally be able to grab this masterpiece for real.
This is their final album and we are extremely happy to be a part of this. And it will end with a bang! What about clear white vinyl with blood splatter, gatefold cover and poster included? All wrapped up in amazing artwork by the talented frontman Marc Strömberg. What about the music? Ironically the band sounds hungrier than ever on Soul Cracks the Gold. As always they do their thing and are never afraid to think outside the box. For the first time ever all the lyrics are sang in english, which is both a bold and cool decision to make from a band that are known for singing in swedish. Soul Cracks the Gold is more straight on and less experimental than their last record. Still hardcore. Still speaking their minds. Still keeping it real. Expect this to be no less than a powerful good bye from the Umeå Hardcore heavy weights.
For fans of: Håll Det Äkta and Umeå Hardcore!
We share this release with these fine labels: Startracks (Refused, Fireside, Kristofer Åström, Loosegoats), Monument (Final Exit, Lesra, Forever Young, No Omega), Dollar Grin (Lowest Creature) and Religious Vömit (new label from the people behind Gaphals Records). Make sure to check them all out.
UF008/MON057: HÅLL DET ÄKTA – Soul cracks the gold LP
Side A:
1. SD punks fuck off
2. Push (w. Andrea Cengic)
3. The eagle rises high (w. Steph Schwartz)
4. Tears of a robot
5. Melt
Side B:
6. 2 da limit
7. P.P.P.P.P.P.P.
8. Body and mind
9. Altar
10. Face/off (w. Gabi Ujueta)
Clear 12″ vinyl w/ blood splatter
Gatefold cover w/ poster included
500 copies
Release date: TBA soon
PRE-ORDER NOW!
PRE-ORDER NOW!
PRE-ORDER NOW!
This is the end
Review from Close-Up Magazine
Söderhamnskvartetten CEDRON tar på uppföljaren till 2013 års debut "Chased by shades" steget upp i hardcorens elitserie. Med ena benet i genrens inhemska historik och det andra mitt i ett djärvt kliv som låter hjärtat diktera villkoren.
"Valence" har ett tilltal som osar av desperation, vilja, kärlek och något eteriskt som ofta tillhör hårda band från små städer. "Done breathing" och "No peace without justice" har sådan glöd och närvaro att det känns som att bandet står på mitt vardagsrumsgolv och lirar.
Drömska gitarrscenarion stänker djupblått vemod när chansen ges, vilket omsluter låtarna i känslomässig tyngd som trivs ihop med turbulens och röjiga riffresonemang. Och sånginsatsen knyter ihop säcken genom att packa klanglådan full av element från såväl BRING ME THE HORIZON som nittiotalets Umeåscen. [8/10]
Sonny Jonasson
Recension från Close-Up Magazine #182 (Mars 2016)
Pre-orders sent!
To all you lucky ones: the record are sent and on the way to an awesome home. You'll get yours in a couple of days. And from there on, there's no turning back. Cedron are coming your way, going on full speed. Catch them on their upcoming tour.
From Monument and Cedron: love you & see you down this path
Cedron "Valence" PRE-ORDER
(click album art to pre-order)
Monument with friends are happy to give you the very first release in 2016. A record in the top-shelf, remembered with a top finish and 2 exclusive colored vinyl:
orange with black mix
clear with black mix
Our story came alive in 2012 when Cedron played 026 Hardcore Fest in Gävle, Sweden. This is the year when Cedron released their debut ep "Watching the sun turn pitch black" and got recognition in Sweden as a new hardcore band.
Monument was attending due our release of Lesra "You get out..." LP and Anchor headlining the festival.
The first impression of the very young band was jaw breaking: these kids knew what they were doing. The band Cedron etched into our fond memory. Awesome.
(photo from the festival in 2012)
And here we're, 4 years later. The circle is complete but the saga continues.
Blistering passion, addictive riffs and crushing vocals filled with emotion: This is CEDRON! The Söderhamn based modern hardcore four-piece can be considered one of Sweden's most hardworking bands.
2012 saw the release of their debut EP 'Watching The Sun Turn Pitch Black'. This resulted in CEDRON playing shows and festivals all over Sweden, as well as their first European tour, followed by a UK run.
Only one year later, CEDRON put out their first full-length record 'Chased By Shades', which took the band to a higher level, reaching new fans all over the world. The release was followed by a run of ten shows in Australia and extensive touring through Europe, playing shows in over 30 different countries.
After months of writing and rewriting parts to perfection in the studio, CEDRON are proud to present you their newest record: 'Valence'. The eight-track album is a mindblowing set of political, yet personal messages and stories of kids growing up in a small town in the north of Sweden.
'Valence' will be out February 12th via The Underground Fraction, Monument Records and Redfield Records on 180 grams 12" vinyl (200 x Solid Orange & Black mixed / 300 x Clear & Black mixed).
For fans of: Dead Swans, Killing the Dream, Modern Life is War, Meleeh and Anchor.
Side A
1. Time Heal My Wounds (youtube)
2. Walking Gravestones
3. Neverlasting (youtube)
4. Done Breathing
Side B
5. No Peace Without Justice
6. The Underground
7. Writing Love
8. No One Else Can Take Your Part
PRE-ORDER!
PRE-ORDER!
PRE-ORDER!
X-mas packages wrapped and sent
Hectic times but we sent all orders to time the christmas feast! 2613 orders ´til this day, something we're proud of. Monument - down for life with hardcore.
Thank you!
Power Face... pre-orders going fast!
Thrashing guitars, fiery basslines, soaring vocals and earth-shattering drums! Well hey, what else would you expect from Stockholms hardest working, DIY-soldiering, bärs-drinking, smooth talking, soul soothing, play-it-til'-your-fingers-bleed rock 'n' roll animals?
Power Face might not, I repeat MIGHT not, alter your perception of how hardcore with a fistful of heavy metal should sound and feel. It WILL however keep fans of Agent Attitude, Headed for Disaster, Undergång, Fukushima, Night Fever and/or Gang Green rockin' morning, noon and night straight on through to the other side!
Hailing from three parts the madness that is the Capital with a capital C, Stockholm City, and one part the northern savagery of Örnsköldsvik, Power Face will never never never never never compromise in their ongoing quest towards bringing the fire of hard rock to the flames of hardcore.
In conclusion: you wanted the best and you got the best, the hottest band in hardcore. So grease up and keep on keepin' on, 'cause Power Face is gonna fuck you up!
Pre-order open for Power Face!
Monument love to present the 53:rd release and a new band to our rooster. With Agent Attitude, Håll Det Äkta, Christer Pettersson, No Omega, Undergång, Final Exit, Outlast, Repoman, Anchor, Hårda Tider and many, many more bands that we work with thru the golden years of hardcore punk, we present:
(click cover to go to pre-order)
"Power Face is a brand new band from the Stockholm's alleys, roaming in the streets like rats with bandanas, spitting hardcore / punk / crossover with an old school heavy metal flavor in the 'normal' people's faces."
The Monument edition comes handnumbered and with exclusice artwork. All pre-orders ship first
Check Power Face at Bandcamp
Another release gone by...
Short and monumental notice. Hårda Tider / Balance split 7" is sold out, forever and ever.
This is our 19:th release from the birth. Spin in peace.
Cedron "Time heal my wounds"
The album is due to be released early 2016 together with label mates in The Underground Fraction (unknown) and Redfield Records (Germany). The first single "Time heal my wounds" is out now! Check out the video here:
The first single "Time heal my wounds" is out now! Check out the video
The boys in CEDRON are currently on tour with Empty Handed, make sure to support them if you have the chance! Here are all the tourdates:
16.10. DE- Hof, Luftkeller
17.10. DE- Mainz, Haus Mainusch
18.10. BE- Halle, JH Eenders
19.10. DE- Aachen, Autonomes Zentrum Aachen
20.10. DE- Stuttgart, Juha West
21.10. IT- Verona, Il Blocco Music Hall
22.10. AT- Wien, Venster 99
23.10. DE- Jena, Rosenkeller e.V. Jena
24.10. PL- Krakau, Kawiarnia Naukowa
25.10. PL- Poznan, W Starym Kinie
Stay tuned for more info about this!!
In the meantime check out the links below:
CEDRON
facebook.com/cedronband
cedron.bandcamp.com
THE UNDERGROUND FRACTION
theundergroundfraction.wordpress.com
theundergroundfraction.bandcamp.com
REDFIELD RECORDS
facebook.com/redfieldrecords
redfield-records.de
Pre-order will be announced! Stay tuned.
Power Face 7"
22:nd August, from the band
"YEAH! We've officially approved the test pressing for this beast of a 7". Pre-orders will be up through Farsot Monument P.P.P. Records and us faster than you can say "vilket jävla drag". More info on this + release show soon. Until then: keep listening and sharing. Keep the faith, respect the riff."
It's no secret Monument loves (swedish: dyrkar) fast, melodic but yet dirty hardcore. Youthful tunes getting your limbs moving.
Power Face 7" will be in our record shelves autumn 2015, not far from here. Until we bomb the pre-order, pogo to their bandcamp.
https://powerface.bandcamp.com/releases
About Power Face
Power Face is a brand new band from the Stockholm's alleys, roaming in the streets like rats with bandanas, spitting hardcore / punk / crossover with an old school heavy metal flavor in the 'normal' people's faces.
Swedish hardcore/crossover/thrashers Negative Self's bassist Frank Guldstrand recommended us to give a good look to this Stockholm punk/hardcore band, Powerface. In his own words: "Power Face, this is a brand new, hardcore out of the back alleys of Stockholm's suburbs. Take the most snotty hardcore you've ever heard and add some Judas Priest and you have Power Face!"
Quotes from: metalinvader.net
Iron "Midnight raids" is in stock
At our Headquarter. The feeling of a brand new kick-ass hardcore record. Can't beat the feeling.
Pre-order dead, viva skeleton hands!
Gust "Fuck life" lp sold out!
The last chance to get this masterpiece is from GUST at Ieper Fest.
Iron - Midnight raids pre-order!
Monument with colleboration with The Underground Fraction and friends give you the new Iron wax.
Expect midnight raids, blasting hardcore punk. An awesome follow-up to their beloved Desperate fight lp released a year ago. Pressing info for Monument is 25 records only, don't sleep because this will go first on pre-order!
(click cover to reach pre-order!)
IRON

:

Fast, pissed off hardcore punk

from Malmö, Sweden.

Vegan, straight edge, sex positive, queer and vehemently anti-capitalist

. Five songs of rage and passion, spanning over themes such as

direct action/animal liberation, sexual freedom and drug free living for the revolution.
Umeå hardcore exclusive
Monument got fresh 7":es from 1997 and the hardcore mecka Umeå. Through talk with the guitarist Johannes P we got the chance of distributing the last(?) batch of Eclipse - The bonafide ep 7". Released in the sweet 1997.
Currently listed by The Underground Fraction as 20 records you have to check out from their hometown Umeå (link).
(click cover)
Guidance "Path of grace" out on the streets!

order Guidance "Path of grace" HERE
order Guidance "Path of grace" HERE
order Guidance "Path of grace" HERE

The pre-orders are sent and Monument only got 5 copies left out of our share of the press. Luckily we are carrying The Underground Fractions share as well meaning more hardcore in stock.

"Guidance [...] recording what I consider to be the BEST 90's influenced straight edge record of the past decade, Path Of Grace"

The quote is from the excellent article at http://droidxrage.com. Text below from the same (awesome) source.

"London based Straight Edge band Guidance put out a great 7" last year through Anger Battery Records entitled Age Of Vice. Drawing very obvious inspiration from the New Age Records bands of the early 90's, it was equal parts Strife circa My Fire Burns On and A Light In The Dark era Outspoken. Age Of Vice really impressed me at the time with it's solid songwriting and accomplished musicianship but most importantly because it had some fucking soul and I was excited to see how the band developed. Fast forward 18 months and Guidance have sadly packed it in despite recording what I consider to be the BEST 90's influenced straight edge record of the past decade, Path Of Grace. Currently this record is unreleased, but is available to listen to for free HERE
This record is an exercise in perfectly conceptualized and executed hardcore. Metallic without being 'metal', spiritual without resorting to preaching, emotional without feeling contrived or soft. There's power and ability here, the kind of anthemic build ups that make the hairs on the back of your neck stand up, collapsing into monstrous breakdowns that would wake even the most reluctant of yesterdays pit giants from their slumbers. Haunting acoustic guitar interludes sit comfortably between sheets of shrieking dissonant guitars and pounding drums, it's a similar dynamic to that employed by Resurrection or the first 108 record.
Vocalist Charlie has some real urgency to his delivery, his voice breaking beneath the strain and again reminds me of Rob Fish. A lot of bands claim 90's influences but often come across as an awkward mish-mash of poorly executed musical cosplay. Path Of Grace is a record that feels real to me. It makes me feel like I did when I first heard Undertow's At Both Ends LP, like I wasn't the only person who felt rage and disgust and anxiety at the state of the world.


Themes addressed in the lyrics stray from the usual cliche straight edge subject matter and demonstrate some existential questioning and consideration for matters beyond the flesh that really impressed me. 'She' looks at misogyny whilst in 'Stand Against' the subject of addiction is tackled in a contemplative manner rather than the hard nosed approach of the likes of Day Of Rights. False Prophet reminds me of Outspoken's 'Current' 7" with it's defiant melancholy and flowing bass lines.
There are criticisms though. The production is paper thin, the guitars lack crunch and the drums sound like they were recorded on a dictaphone. Nothing a decent mastering job couldn't rectify however. The other short coming here for me personally is that the stench of Krishna hangs around this band like stagnant incense. Maybe it's just the artwork or Charlie's decidedly Fishy vocals that elicit these feelings from me, regardless it's a minor criticism of what is an incredibly complete recording.


We live in a time where hardcore is undeniably larger than it has ever been before it is inevitable that dilution of purity sets in and the essence becomes harder to find. UK straight edge is bigger than I could have ever anticipated it becoming when I was cutting my teeth back in 1994, to the point where it's large enough to foster sub scenes within the straight edge scene. Whilst the bare knuckle 80's approach of Violent Reaction and True Vision etc has clearly captured the attentions of the former colonies whilst Day Of Rights, Survival, Insist etc all speak to different quarters, I think there's room for something that asks the bigger questions, a spirit that burns with a genuine anger.
I believe Guidance possess those qualities in abundance and I implore…no, fuck that I DEMAND that they work through whatever challenges thwarted them in the first place and take up arms again because I believe UK hardcore truly needs this bands voice"
Review from: http://droidxrage.com
Guidance "Path of grace" pre-order!
Monument are looking back to the exciting youth when the world revolved and circulated thru searching an identity, anger with discovering the true colors of this world and structural injustices. The outrage. But most of all: hardcore. The soundtrack to our rebellion, friends over cities and the borders. The music are ours.

The true love to hardcore have giving us 50 releases and counting and GUIDANCE "Path of grace" marks the 51:st record. What about it? When Niki of Ugly & Proud asked us to share this record drawing inspiration from many beloved 90's hardcore heroes we instantly joined. Or what our comrades the Underground Fraction put it:

"This is too good to be ignored. This is too real to only be released digitally. We really feel the urge to release this album..."

Said and done: the record are up to pre-order and the vinyl are expected in May. Only 30 copies available in Sweden!

"Reality is an enemy you're terrified to face."
by daydreamtendencies.
I want to talk shortly about this record because I feel it needs to be heard, experienced fully. Guidance aren't a band anymore, but when they were, they put out a very promising record entitled Age of Vice. Last year heralded the arrival of an LP 'Path of Grace' though it's release never really came to fruition. Now, after months of waiting, Path of Grace has seen the light of day, as it was always intended to.


The London Straight Edge band features members of such influential groups as Abolition, Repentance, Mankind and Violent Reaction as well as new project, Digress. Effectively, it's a big homage to 90's hardcore with similarities to bands like Motive, Vitality and Congress. Path of Grace begins relentlessly, demonstrating hammering drums and driving guitars that pave the way for Flagman-esque track 'She'.
I dig the combination of harsh vocals and the spiritual feel these tracks contain. At times, it emanates power and aggression such as on 'Turning Tides' and 'Nataraj' yet there is also a desperation, encompassed in songs such as 'My Body, My Cage': "My body, has become my cage, that I reject."


'False Prophet' is a personal favourite, pushing against the ideology of organised and extremist religion: "Feed off the weak, tread on the meek. And you desecrate my temple, my sanctuary." The ideas discussed and raised through this music are what make me really love this record. It has moments of haunting beauty and those of fury. This is translated and conveyed through the music, and through the lyrical content. It's a bold step in the right direction for hardcore music, despite Guidance no longer existing and Path of Grace is undeniably an important record, harking to the golden days of hardcore music and existing in a welcome resurgence.


Article from: https://daydreamtendencies.wordpress.com


Hardcore with an (awesome) 90's twist
Our good friends in

The Underground Fraction

gave us a big shout out to check a London straight edge band that the Fraction are heavily into. If they say something you'd listen.

Guidance

.
Said and done. It's awesome as promised. Drawing influences from

Turning Point, Undertow, Drift Apart, Eleven Thirty Four, Shelter, This World Rejected, Congress, Guidance

are paying homeage to what's been great hardcore from the past, the present. Monument must cross minds to

Shield

with sweet melodies and the famous breaks from the Umeå legends.
The UK-band features members of such influential groups as Abolition, Repentance, Mankind and Violent Reaction as well as new project, Digress.
And listen to their latest works
More to come and remember:
hardcore for hardcore
Bag it! free of charge in your order
We've had an debate with our packing crew led by Johnny Old-school. His winning argument was that a solid rough record bag for vinyls and such should be included in human rights, esp. for Monument affiliates. And there you go: free of charge:
Click on the bags to reach the winning argument. Last some time, not forever. To be added in your order(s).
PRE-ORDER OPEN!
Agent Attitude "Deranged realities" LP
Yes, now finally the new album for the Agents are ready to be yours. Everybody who pre-orders get the records first and might pick up a (opaque)yellow one, just 30 in total.
AA defines an active band with plenty tours in their backsack. Releasing vinyl after vinyl, cassette on US-label and mostly tearing it down into sweat, adrenaline and instant smiles in the pit, Monument Records are privileged to be on the run since the start with Green Menace Records. The latter, and most frequent teamplayer, turned to Adult Crash: Denmark's finest.
Here we are talking fast hardcore of the old school with clear USHC tendencies from all the wonderful 80's. Dirty, bloody and raw quickly, just as it was intended from the very beginning. Frustration, anxiety and cheeky middle finger recorded on a twelve inch of plastic. It does not get much more punk than this.
For fans of:

Battalion Of Saints, Black Flag, Minor Threat, early Suicidal Tendencies, Jerry's Kids, Bl'ast, Circle Jerks
.
...like
"Totalitär, Bl'ast, SSD and Black Flag raised a baby together"
.

(get pre-order by clicking the cover)
Track list:
1. Not again
2. Deranged realities
3. Step aside
4. Nothing for me
5. Life ain't fun
6. You make no sense
7. Police control
8. Exclude me
9. UA life
10. Controlled and deceived
11. We'll never learn
12. Mass psychosis
* Pre-orders shipped first! Est. release date: August/September 2014
Pressing info, Monument:
30x opaque yellow
120x solid black
Reviews on GUST, by Captain of lies
See the much more cool reviews n´ stuff at: http://captainoflies.tumblr.com
Gust - Fuck Life & Gust
Gust are a progressive hardcore quartet from Trollhättan in Sweden formed in 2010. In typical style I was fairly late to the party with these guys. I only learned of them through a last minute free gig at Camden's Unicorn, a pub/music venue that holds many dear memories for me. However with the bands second self-titled LP due out late this month on renowned metal label Southern Lord I'm sure I won't be the only one kicking himself he didn't latch on sooner.
Fuck Life
The bands debut was released in 2012 and is caustic as its title suggests. For the most part the music on Fuck Life is fast, furious and abrasive. Pummelling riffs come thick and fast whilst frantic drum rolls clatter in the back of the sludgey din, vocally there is no respite from the coarse angsty roars. The real strength on Fuck Life though are the occasional technical flourishes that help solidify the albums dark atmosphere.
GUST
The bands follow up scheduled for release later this month carries forward Fuck Life's vitriolic angst at breakneck speed its ten tracks lasting just under 30 minutes. Thematically like it's predecessor Gust tackles issues of dogma and societal collapse with clarity and precision of purpose. Highlights come thick and fast throughout the record. Unease, an ode to the guilt of being callous is particularly arresting whilst the doom laden Hollow Faces also stands out for it's oppressive atmosphere. Whilst the overall sound of the band has not changed since its debut Gust sees the band hone their skills and strengths to perfection leaving very little to complain about on this impressive sophomore effort. Definitely something to look out for come 22nd July.

Physical editions: http://gust.bigcartel.com/
Stream samples: http://gustswe.bandcamp.com/
Close-Up on releases
We borrow (steal) the following from our friends in The Underground Fraction who summarizes Close-Up Magazines and the reviews on our shared releases:
IRON – Desperate Fight LP
Malmös straight edge-pluton IRON häver sig på tå, slår ut med armarna och skriker utmanande: "Do you have what it takes/to make a real change?". Det är befriande med ett band som sätter budskapet i centrum. Som kämpar mot sexism, djurförtryck och kapitalism i en scen som enligt dem själva blivit alltmer opolitisk.
Albumtiteln pekar förstås mot nittiotalets Umeå och även en del av IRONs snabbfotade musik för tankarna till framför allt FINAL EXIT.
Den drygt sexton minuter korta debut-lp:n rymmer dock en hel del annat också. "Songs of war har dystra gitarrmelodier medan "För evigt och alltid" får kängpunkskänsla tack vare språkbytet. I "NMA" skapar sänkt tempo och dissonanta tendenser en slagkraft som passar väl ihop med omslagets krossade fönsterrutor. Desperata tider kräver desperat kamp.
Daniel Axelsson, Close Up #164 (Augusti 2014). Betyg: 7/10.
Hardcore for hardcore: the latest shipments
The present weeks we've pumped hardcore to the following persons. Making hardcore and Monument coexist. Appreciated and vital. Thanks
Patrik (Monument "Unbreakable" basketball jersey)
Arvid (Håll Det Äkta)
Herman (Iron To Gold)
Jakob (Adolescents)
Otto (Converge)
Edvard (Repoman)
Zacharias (Normal Man zine)
Steven (Against Me!)
Peter (Håll Det Äkta)
Erik (Håll Det Äkta)
Simon (Håll Det Äkta)
Jon (Håll Det Äkta)
Jakob (Sick Of It All)
Johan (Håll Det Äkta)
Oscar (Christer Pettersson)
Jens (Ceremony)
Fredrik (Give)
Patrik (Agent Attitude)
Appreciation to Monument warriors

We are grateful and appreciate the community among hardcore kids, alternative music and together we make this works, because Monument continues to pump out hardcore on the streets. The bonds are intact.

The latest heroes:
Kim, Have Heart
Alven, Social Distortion
Martin, Christer Pettersson
Jesper, Lesra
Erik, Agent Attitude
Axel, Cursed
Johan, Christer Pettersson
Marcus, Håll Det Äkta
Peter, Nitad
Johan, Nerve Agents, the
Axel, Agent Attitude
Micke, Håll Det Äkta
Martin, Gorilla Biscuits
Mårten, Propagandhi
Jani, Christer Pettersson
Jon, Håll Det Äkta
Johan, Håll Det Äkta
Mikko, Wolf Down
Rikard, Minor Threat
Jens, Mob 47
Tomasz, Outlast
Andreas, Dead Reprise
Ernesto, Inside Out
Manne, Final Exit
Fredrik, Floorpunch
Alexander, Jr Ewing
Klas, Law & Order
Kristian, Shai Hulud
Anton, Fugazi
Nicklas, Forever Young
Magnus, No Omega
Saskia, Rival Mob, the
Tomas, No Warning
Erika, Final Exit
Otto, Converge
Joackim, Håll Det Äkta
Martin, Undergång
Melina, Yo! foodzine
Sandra, Undergång
Nikos, Final Exit
Lisbeth, Bane
Jonas, Give Up The Ghost
Elisabet, Defeater
Christian, Tragedy
Oskar, DS-13
Alexander, Håll Det Äkta
Michael, Håll Det Äkta
Oscar, Final Exit
Arjan, Christer Pettersson
Boutillon, Skitsystem
Christian, Undergång
Kristoffer, Håll Det Äkta
Nils, Christer Pettersson
Viggo, Ceremony
+++++++++++
p.p1 {margin: 0.0px 0.0px 0.0px 0.0px; font: 14.0px Arial; color: #505050; -webkit-text-stroke: #505050} p.p2 {margin: 0.0px 0.0px 0.0px 0.0px; font: 14.0px Arial; color: #505050; -webkit-text-stroke: #505050; min-height: 16.0px} p.p3 {margin: 0.0px 0.0px 0.0px 0.0px; font: 14.0px Arial; color: #336699; -webkit-text-stroke: #336699} span.s1 {font-kerning: none} span.s2 {font: 12.0px Arial; font-kerning: none} span.s3 {text-decoration: underline ; font-kerning: none}
p.p1 {margin: 0.0px 0.0px 0.0px 0.0px; font: 10.0px Helvetica; -webkit-text-stroke: #000000} span.s1 {font-kerning: none}